Online:Eldhon
The UESPWiki – Your source for The Elder Scrolls since 1995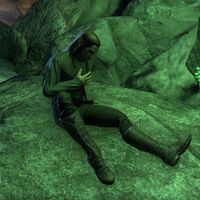 Eldhon is an Altmer and an acquaintance of Nedoril's. He can be found midway through the caverns, injured and pleading for help. He is apparently a victim of his former friend's homicidal rampage. After speaking to him, he expires.
Related Quests
[
edit
]
Dialogue
[
edit
]
"Is someone there? Help! Please, help!"
"Crazy bastard ... stabbed me. Gods ... this hurts!"
Tell me what happened.
"It was just... kind of fun. Joining the ... Court of Bedlam. Espousing the virtues of our... Altmer heritage.
But Nedoril... he took things too far..."
What do you mean, too far?
"When we heard ... that they planned to ... release those creatures ... I made the mistake ... of saying they were ... insane.
Nedoril objected. Called me unworthy. That's when he stabbed me..."
Eldhon, where's Nedoril now? Eldhon?