Online:Azinar
The UESPWiki – Your source for The Elder Scrolls since 1995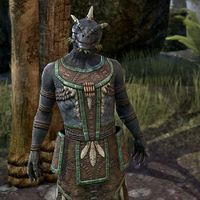 Azinar is an Argonian found in the settlement of Hissmir. He is located northwest of Hissmir, and is dealing with a small crowd of concerned citizens, including Nowajeem, Pegareem, Supowateer and Dakee-Goh. He is a quest giver for Trials of the Burnished Scales.
Related Quests
[
edit
]
Dialogue
[
edit
]
When you approach him, he will be trying to deal with the small crowd.
Azinar: "Please, one at a time! I'm documenting your concerns and will pass them along."
Pegareem: "They mock our traditions!"
Nowajeem: "What are you going to do about that Dominion soldier?"
Dakee-Goh: "Get the Dominion scum out of here!"
Supowateer: "Pilgrims have gone missing since that Elf arrived!"
Azinar: "Please, I'm doing all I can to ensure your concerns are met."
You can then talk to him to see what is wrong.
"If you're here to complain about that Dominion soldier, I've heard everything already."
The Dominion? Here?
"The soldier in question, Captain Henaamo, announced himself and his intentions to undertake the Trials of the Burnished Scales.
By holy tradition, pilgrims who declare themselves may not be harmed. The Hist alone decides his worthiness through the trials."
Why would these trials interest the Dominion?
"Those who complete the trials may commune with the Hist. I don't know why this interests the Dominion, but I fear it is no good for Shadowfen.
Perhaps you could find out yourself? Take the trials, and keep an eye on this enemy of our people?"
I will keep an eye on Captain Henaamo.
"Chimatei presides over the Trial of the Mind, the first challenge. He'll administer the Trial to any supplicant."
Why does a pilgrim have to complete the trials to commune with the Hist?
"All are as one within the Hist. To be as one requires discipline. The Trials prove your commitment.
They also test your body and mind. We must see if you're capable of surviving the process without dying or going mad."