Online:Auroran (NPC)
The UESPWiki – Your source for The Elder Scrolls since 1995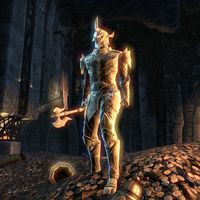 Aurorans are a type of Daedra associated with Meridia fought in the Tabernacle of Light Unyielding of the Depths of Malatar. Standard aurorans appear after destroying the Dark Orb, having a golden glow and fight wielding axes and using lightning-based attacks.
Auroran
Location
Depths of Malatar/Colored Rooms
Race
Auroran
Gender
Male
Health
51,572301,433
376,791 (Hardmode)
Reaction
Hostile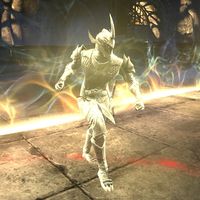 During the fight with the Symphony of Blades, spectral Aurorans will march forward in a phalanx formation across the room. They are accompanied by a barrier called "Meridia's Light", and killing one of the members of the Auroran Phalanx will also destroy the portion of light behind them. When the Symphony of Blades travels to the Colored Rooms, the Auroran phalanx will once again appear.
Related Quests
[
edit
]
Skills and Abilities
[
edit
]
Arc Lightning

Meridia's Light
An instantly killing attack that accompanies the Auroran Phalanx, being triggered if you run into their barrier