Online:Artificer Dalomar
The UESPWiki – Your source for The Elder Scrolls since 1995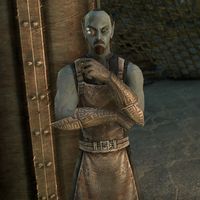 Artificer Dalomar is a skilled Dunmer tinkerer who resides in Slag Town.
Proctor Luciana Pullo directs you towards him during the related quest, where he loans you Snuffler to help track down Chancellor Gascone Dusant, who fled the Clockwork Basilica.
Related Quests
[
edit
]
Quest-Related Events
[
edit
]
"Well, well... look at you, all full of fleshy-bits. Not a scrap of brass on you, is there? That won't do! That will not do!
I can fix you up. No bother at all! Maybe new feet. You need new feet, don't you?"
No thanks. I need to track a missing person. Luciana said you might have something that can help.
"A missing person? How mysterious! You wouldn't be looking for Sotha Sil would you? I hear rumors you know? All kinds of rumors. Something about him turning into a crow? Or was it a frog. Never mind.
Luciana did you a favor. I have just the thing."
Good. Can I see it?
After speaking with him, Dalomar will introduce you to his pet nix-hound fabricant:
Artificer Dalomar: "Woah! Cool those cogs, you twitchy rascal!"
Artificer Dalomar: "This little scrapheap should do the trick.... Meet Snuffler, the tracking Nix."'
Speaking with Dalomar after meeting Snuffler:
"Keep close to Snuffler. But not too close, you know? He spooks easily. And when he spooks, someone typically gets stabbed. Just a friendly warning. Good luck!"
After Snuffler sniffs the note and leaps off:
Artificer Dalomar: "There he goes! I just replaced his leg springs, so try to keep up!"