Online:Ahirunz
The UESPWiki – Your source for The Elder Scrolls since 1995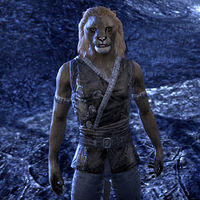 Ahirunz is a Khajiit who can be found on the eastern road from the Hollow City. He and his mate were somehow brought into Coldharbour and tried to take shelter in a nearby cave, only to be attacked by its denizens. While they managed to escape, Ernabi died from her injuries. Ahirunz will show you the location of the Cave of Trophies when you speak with him.
Related Quests
[
edit
]
Quest-Related Events
[
edit
]
If spoken to outside the Hollow City, he will speak of the Cave of Trophies:
"This one and his beloved mate sought shelter, but there was none to be found. Ernabi, she didn't make it. Now I lack the will to go on.
Our children will grow up without parents. They will be poor and destitute and probably die young and alone."

How did you end up here?
"This one and his mate, we lost our way home one night. We followed a light in the forest and wound up in this depressing place.
We took shelter in a cave to the northeast, but that didn't work out so well. Especially not for poor Ernabi."

What happened in the cave?

"We were attacked by Gnilokelo and his monsters as soon as we set foot in the cave. This one and poor Ernabi fought our way out and eventually escaped into the wastes."

How did Ernabi die?

"This one's beloved Ernabi was wounded in the escape. She died before we could reach safety and find a healer.
This one's claws will never be sharp again!"

I've been to the Cave of Trophies. (Appears during A Misplaced Pendant)

"Did you run into the Dremora? Did you make them suffer for what they did to this one … to poor Ernabi?
Ahirunz hopes that you killed many of the unclawed dung sacks."

I found this pendant. Is it yours?
"This one's beloved Ernabi dropped it while we ran from the Dremora. Ahirunz never thought he would see it again. It must be a sign! Ernabi doesn't want this one to give up.
Thank you. Thank you for giving Ahirunz the strength to go on living."
After you hand over Ernabi's pendant, Ahirunz will get up off his knees and say his final goodbye to Ernabi.
Ahirunz: "This one shall miss you, my beloved. But this one must not despair."
Ahirunz: "This one has children … Ahirunz shall find a way to return to them. On this pendant, so Ahirunz swears!"
He will then walk down the road towards the Hollow City.