Online:Adelil
The UESPWiki – Your source for The Elder Scrolls since 1995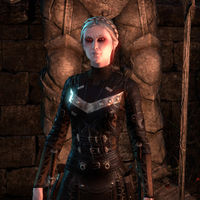 Adelil is an exiled Nord vampire noblewoman hiding out in the Shornhelm Outlaws Refuge. She is the author of a written plea to King Emeric which is also found in the Outlaws Refuge. When spoken to, Adelil says one of the two following lines:
"Those high and mighty nobles of House Ravenwatch get to prance around like kings of the kingdom, while I hide out down here.
You do know they're all vampires, don't you? Well so am I! But that and a sack of gold won't get me out of this rat hole!"
"So I'm a vampire. So I drink living blood. I'm not a bad person!
Well, I'm not a very bad person. Why does the Guard want to put a stake through my heart? It's prejudice, pure and simple."