Online:Abzag the Monster
The UESPWiki – Your source for The Elder Scrolls since 1995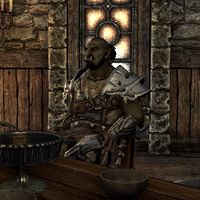 Abzag the Monster is an Orc member of the Undaunted found with his companions at The Rosy Lion. He will tell you about Fungal Grotto and The Banished Cells, marking their locations on your map if you have not yet discovered them.
You will meet him again at the Dead Wolf Inn in Shornhelm, where he will tell you about the City of Ash and Arx Corinium.
Dialogue
[
edit
]
The Rosy Lion
[
edit
]
He is dismissive of non-Undaunted, saying:
"Run along now, little scamp. This is the grown-up table."
When you are inducted into the Undaunted in Daggerfall, the following conversation will occur:
Mighty Mordra: "Listen up, you bunch of corset-wearing dog-diddlers! We got a new piece of meat on the rack, fresh from the butcher's block!"
Abzag the Monster: "Hear, hear! I've got a proper welcome for 'em—right down in my breeches!"
Lady Blade: "Might be that's a monster they could actually slay, eh Jalid?"
Magnifico Jalid: "Always with the breeches. You lot should get out more. Besides, that's no proper welcome. I propose a toast!"
Abzag the Monster: "Hear, hear! A toast!"
Lady Blade: "To the new meat's mother. May she have many healthy children—since this one's a goner!"
Magnifico Jalid: "To the new meat's lover. May their tears be few and silent—so I don't have to hear it when this one dies!"
Abzag the Monster: "To the new meat's face! May it always bear a smile—so it doesn't look so ugly mounted on a pike!"
Mighty Mordra: "A fine toast to a fine piece of meat. Now let's have a song to finish them off!"
Abzag the Monster: "Who knows no fear … of beast or blade?"
Magnifico Jalid: "Who knows no fear … of death? Of age?"
Mighty Mordra: "Hope you enjoyed the show, friend. We do take pride in what we are. Now you can, too.""'
Afterwards, you can ask if he knows any good places:
"Let me know when you kill a real monster. Or if you'd like to try this monster on for size …."

Tell me about a real monster. / Tell me about another monster.

"The Dreugh King! He lives in a great cavern beneath the mountains of Stonefalls, fighting a war against the mighty Ozozai, chief of the Murkwater Goblin clan.
To defeat such ferocious warriors would make you the envy of all Undaunted."

How can I prove I am Undaunted? / How else can I prove I am Undaunted?
Dead Wolf Inn
[
edit
]
He can also be met in the Dead Wolf Inn with Brulo Bloodletter and Ilmindil the Incendiary. If you're not part of the Undaunted:
"(?)"
If you're one of the Undaunted:
"Look what the cat dragged in. You kill anything bigger than a spider yet?"
I've killed plenty. But I'm always looking for more.
"Spoken like a true Undaunted. So let me ask you something.
How would you rather die: burned alive, your flesh charred and falling off the bones? Or swallowed whole, digesting in the belly of some reptilian freak?"

Burned alive, I think. / Anything else I might be interested in?

"You ever dance with a Daedric Prince?
Ilmindil here claims Mehrunes Dagon himself is wrecking havoc in Greenshade. Sent his army to raze some Bosmer village. Don't remember its old name, but now it's called the City of Ash."

Digested doesn't sound too bad. / Any other suggestions?

"You know what a lamia is? Imagine a giant snake and a gorgeous woman somehow had a baby. Curious, right? Thought I might cozy up with one. I was wrong.
Maybe you'll have better luck. There's a horde of them in Shadowfen, old Imperial fort called Arx Corinium."