Oblivion:Sinkhole Cave
The UESPWiki – Your source for The Elder Scrolls since 1995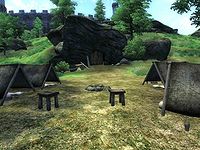 Sinkhole Cave is a medium-sized cave northwest of the Imperial City containing bandits. It contains two zones: Sinkhole Cave and Sinkhole Great Hall.
The cave's name appears to come from the deep chasm in the second zone.
This cave contains 23 Cairn Bolete plants and 10 Wisp Stalk plants.
Exterior
[
edit
]
The exterior is located at coordinates: Tamriel 4, 19
This location's map marker (M on map) is named Sinkhole Cave (editor name SinkholeCaveMapMarker). The entrance door is SE of the marker, 60 feet away.
0-1 Mud Crab is near the entrance
1 Wilderness Creature (Plains variety) is near the entrance
4 bedrolls are at locations b on map
Zone 1: Sinkhole Cave

[

edit

]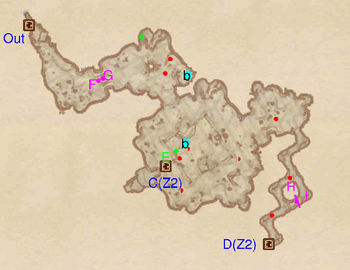 This zone is essentially made up of two large rooms. In the first are two enemies, a minor loot chest and a bedroll (b). On your way there, be wary of the swinging log trap (F) activated by the pressure plate at G. The second room is much larger and contains up to five enemies, as well as a chest and some food at E. Ignore door C for the moment and head northeast. There are two more enemies in the corridors ahead and a swinging mace trap (I) before you reach door D.
Occupants:
Treasure:
Traps:
Doors and Gates:
There are three doors in/out of this zone
Other:
2 bedrolls at locations b on map
Zone 2: Sinkhole Great Hall

[

edit

]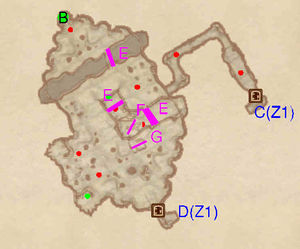 This zone is entirely made up of one large room, with a small L-shaped canyon to the east and a deep chasm in the northern end. Entering from door D, you are on the upper level, in the company of three enemies and a minor loot chest. From here you can snipe at the one or two enemies below you, just be careful of the rotten planks at E. Jump over the chasm to fight another enemy and loot the boss chest (B). Once you're done, jump down to the lower level, which hosts a minor loot chest and a falling log trap (G). Follow the tunnel leading out, battling past two more enemies before reaching door C.
Occupants:
Treasure:
Traps:
Doors and Gates:
There are two doors (at C and D) in/out of this zone, both leading to the zone Sinkhole Cave