Oblivion:Petrine
The UESPWiki – Your source for The Elder Scrolls since 1995
This page is currently being rewritten as part of the Oblivion NPC Redesign Project.
The page is being rewritten and checked in several stages. If you make an addition to this page, please update this template accordingly, but make sure you have observed the project guidelines.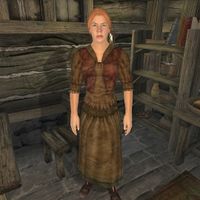 Petrine is a Nord ostler who sells Paint horses at the Wildeye Stables outside Bruma.
With her faithful employee Humilis Nonius in charge of tending the horses, Petrine takes care of the business and never even leaves the stables. She gets out of bed every day at 6am and starts the day with two hours of strolling around before unlocking the door at 8am. For the next twelve hours, the stables will be open for customers. Petrine will constantly be available and is also willing to interrupt her two-hour lunch at noon for a transaction. At 6pm, she sits down and enjoys her dinner until closing time at 8pm. After two hours of relaxation, at 10pm, she heads to bed. Petrine will sell horses 24 hours a day, but the door to the stables will be locked outside the regular opening times.
She wields an iron shortsword and wears some lower-class clothing consisting of a patched vest with belted braies and a pair of rough leather shoes. She only carries a small amount of gold.
Outside the stables, Humilis will urge you to head inside if you want to do business: "Go inside and talk to Petrine if you want to buy a horse. I can't help you." When you approach Petrine, she will get right down to business: "Are you looking for a horse? The Wildeye Stables have the best Paint horses in Cyrodiil." Before asking for a horse, you can ask her about Bruma. On that topic she will share some interesting information about Nords: "Sorry. All I have is paints. Serviceable beasts, but nothing special. We Nords are no great fanciers of horse flesh, except in stews, I'm afraid." When you ask her about a horse she will give you her sales speech: "Bruma's Paint horses are the toughest in Cyrodiil. You can only buy them from me." If you choose to decline paying the 500 gold, she will say: "Are you certain? Oh well. If you change your mind, you know where to find me." Should you accept her offer, she will point you towards Humilis with the words: "You won't regret it. Humilis will have your new Paint horse saddled and ready for you outside." Should you instead tell her that you're sorry that you can't even afford such a cheap horse, she will say "So am I. I can't sell them for any less, but if you change your mind, come back." If you ask her for a horse after purchasing one from her she will say, "Unfortunately I don't have any more horses to sell. I sold our last Paint horse to you."
An additional greeting for Petrine was recorded, but it will never be heard in-game as her stable dialogue takes precedence: "I'm Petrine. This is Wildeye Stables. I look after folk's horses while they're here in Bruma."