Oblivion:Muck Valley Cavern
The UESPWiki – Your source for The Elder Scrolls since 1995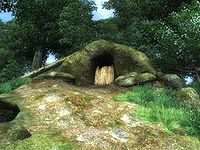 Muck Valley Cavern is a small cave between the Imperial City and Cheydinhal containing animals (quest-related). It contains only one zone, Muck Valley Cavern.
Related Quests
[
edit
]
Next of Kin: Next to the Great Oak in Chorrol, your next assignment demands the lives of an entire bloodline.
This cave contains 19 Cairn Bolete plants.
Regardless of whether the associated quest has been received, the player will encounter Sibylla Draconis. She will attack, but killing her does not prevent completion of the Next of Kin quest.
Exterior
[
edit
]
The exterior is located at coordinates: Tamriel 23, 15
This location's map marker (M on map) is named Muck Valley Cavern (editor name MuckValleyCavernMapMarker). The entrance door is WNW of the marker, 20 feet away.
The following plants can be found near the entrance: 6 Bergamot plants, 1 Foxglove plant, 1 Lady's Smock plant, 17 Lavender plants, and 19 Monkshood plants
Zone 1: Muck Valley Cavern

[

edit

]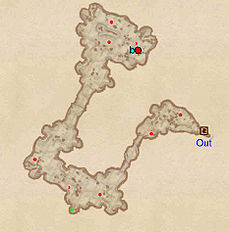 Muck Valley Cavern is the home of Sibylla Draconis who abandoned both her mother and the empire and now lives as a savage with her beloved animals. During the related quest she is your target, and rightfully so, as the cave is one large room and contains absolutely nothing but a single healing chest (green dot on map). She initially starts at Q, near her bedroll at (b), but will move around the entire cave, right down to the cave entrance at Out. After the kill, empty the lonely chest, then leave Muck Valley Cavern the same way you came.
Occupants:
Treasure:
Doors and Gates:
There is one door (at Out) in/out of this zone, leading outside
Other:
1 bedroll at location b on map