Oblivion:Hrotanda Vale
The UESPWiki – Your source for The Elder Scrolls since 1995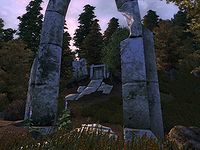 Hrotanda Vale is a medium-sized Ayleid ruin north of Chorrol containing bandits. It contains two zones: Hrotanda Vale and Hrotanda Vale Sanctum.
Exterior
[
edit
]
The exterior is located at coordinates: Tamriel -15, 27
This location's map marker (M on map) is named Hrotanda Vale (editor name HrotandaValeMapMarker). The entrance door is NW of the marker, 20 feet away.
1 Wilderness Creature (Forested Mountains variety) is near the entrance
2 Wilderness Creatures (Highlands variety) are near the entrance
The following plants can be found near the entrance: 1 Aloe Vera plant, 6 Clouded Funnel Cap plants, 1 Fly Amanita plant, 14 Monkshood plants, and 4 Tiger Lily plants
Zone 1: Hrotanda Vale

[

edit

]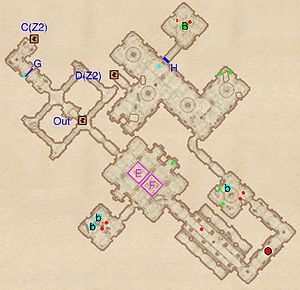 Immediately after entering, you will arrive at a three-way junction. Heading straight would lead you to door C, but the gate at G, which is opened by pressing the push-block (cyan dot on map) on the other side, prevents you from reaching it. Heading either left or right will lead you to the next room. When there, be mindful of the Ceiling Spike Trap (E) and Spike Pit Trap (F) which are one after the other. In small room to the right you will find two bedrolls (b).
In the next room, claim the six Welkynd Stones from their pedestals, then proceed forward through the 'U'-shaped corridor for a 10% chance of meeting an Orc Adventurer (O). In the next room are another bedroll (b) and a Bonemeal portion in a bowl. In the last room, stepping on the pressure plate in front of the Hidden Door at H will reveal up to two Ethereal Undead enemies and a Boss chest (B). Exit to Hrotanda Vale Sanctum through door D.
Occupants:
Treasure:
Traps:
Doors and Gates:
There are three doors in/out of this zone
1 Hidden Door at H
1 Iron Gate (opened remotely) at G
Other:
3 bedrolls at locations b on map
Zone 2: Hrotanda Vale Sanctum

[

edit

]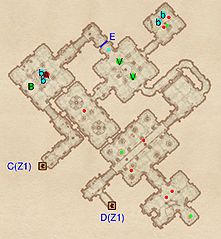 You will enter this zone from the first one through door D and can fast-track back to it by using door C.
In the first room, take the seven Welkynd Stones and examine the southeastern room for three additional stones, one of which is hidden in a corner. In the third large room you enter, you will find two easily-reachable Varla Stones (V). Here you will be at a three-way intersection: the room to the left contains nothing more than an enemy, while the one on the right has two. If you're lucky, they might be sleeping in the two bedrolls (b) nearby. The gate at E is opened by standing on the pressure plate in front of it (cyan dot on map). The last room contains the Boss-level Bandit (A), this zone's Boss chest (B), two bedrolls (b) and another portion of Bonemeal, also in a bowl.
Occupants:
1 boss-level Bandit at location A on map
1 archer Bandit
6 melee Bandits
Treasure:
Doors and Gates:
There are two doors (at C and D) in/out of this zone, both leading to the zone Hrotanda Vale
1 Iron Gate (opened remotely) at E
Other:
4 bedrolls at locations b on map