Oblivion:Goldbrand
The UESPWiki – Your source for The Elder Scrolls since 1995
Daedric Artifact: Goldbrand

(

00

027105

)


(lore page)
Type
Blade; One Hand
Editor ID
DAGoldbrand
Statistics
 Damage
25
 Health
900
Speed
1.0
Reach
1.0
 Weight
52
 Value
6615
Enchantment
Charge/Cost = Uses
3000/39=76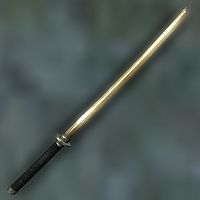 The Daedric artifact Goldbrand is a one-handed katana. Goldbrand is obtained by completing a daedric quest for Boethia. The blade is similar to the version found in Morrowind. See the book Tamrielic Lore for background on this item.
In terms of sheer raw damage, Goldbrand is the second most powerful one-handed weapon in the game, surpassed only by Umbra. However, the fire enchantment on Goldbrand means that, overall, Goldbrand does more damage in total.
Unlike its Morrowind counterpart, Goldbrand cannot be upgraded to Eltonbrand in Oblivion.