Oblivion:Fort Gold-Throat
The UESPWiki – Your source for The Elder Scrolls since 1995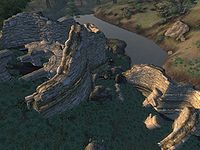 Fort Gold-Throat is a small fort east of Bravil containing goblins. It contains only one zone, Fort Gold-Throat.
Exterior
[
edit
]
The exterior is located at coordinates: Tamriel 37, -11
This location's map marker (M on map) is named Fort Gold-Throat (editor name FortGoldThroatMapMarker). The entrance door is SSW of the marker, 80 feet away.
0-1 Goblin is near the entrance
0-1 Mud Crab is near the entrance
1 Wilderness Creature (Swamp variety) is near the entrance
1 Nirnroot is at location N on map
1 Chest (contains Note of Bounty, ingredient, 75% soul gem; non-respawning) is at C
The following plants can be found near the entrance: 8 Fly Amanita plants, 18 Foxglove plants, 8 Monkshood plants, and 4 Summer Bolete plants
Zone 1: Fort Gold-Throat

[

edit

]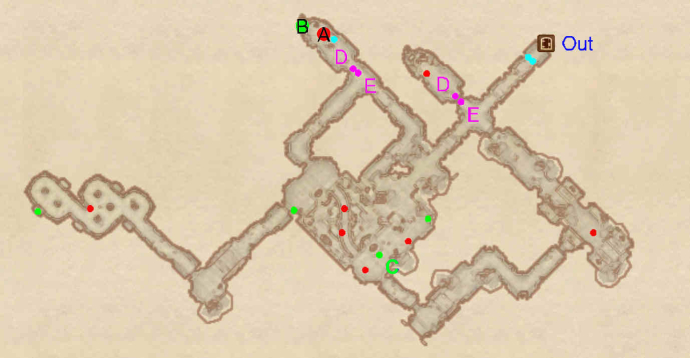 Fort Gold-Throat is a fairly linear Goblin Lair and the boss-leveled chest is an easy one to reach. From door Out head forward and ignore the left and right passages. Proceed forward until you reach a larger room with three levels. Jump down from the balcony and dispose of the goblin patrolling the bridge and pick up a few pieces of lower-level equipment. Choosing the southwestern passage will land you in a dead-end tomb-like structure guarded by an undead; choosing the northwestern passage will take you to the boss-leveled Goblin at A and the ditto chest at B. Beware the Pressure Plate trigger at E, which will trigger the Swinging Mace at D. Backtrack to the room with the bridge and either head back the way you came or proceed through the last tunnel, to the southeast, which will net you more low-level equipment. Finally, exit Fort Gold-Throat the way you came.
Occupants:
Treasure:
1 boss-level Fort Chest (Goblin variety) at location B on map
1 Chest 01 (locked)
2 Chests 02 (1 locked)
The following armor will always be found: 2 Iron Shields
The following weapons will always be found: 4 Iron Arrows, 1 Iron Bow, 1 Iron Dagger, and 1 Iron War Axe
Some of the above items are clustered at location C: 3 Iron Arrows and 1 Iron Bow
Traps:
Doors and Gates:
There is one door (at Out) in/out of this zone, leading outside