Oblivion: Draconian Madstone
The UESPWiki – Your source for The Elder Scrolls since 1995
Artifact: Draconian Madstone

(

00

01C172

, 00

07304D

)


(lore page)
Type
Amulet
Editor ID
MS12Madstone or MS12MadstoneAfter
Statistics
 Weight
1
 Value
3000
Enchantment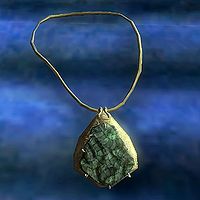 The Draconian Madstone is an ancient artifact of the Akaviri. Although it is said to give the user complete immunity to poison, it really only grants 50% resistance. Last seen at Pale Pass, this amulet is the objective of the quest Lifting the Vale.
The construction set lists two separate madstones, because the ID of the madstone changes when you give it up at the end of the quest. The weight and value in the table are actually those for the post-quest madstone (during the quest it is a weightless quest item, value 2000 gold). The appearance and enchantments are unaltered, however.
Although you must give up the Draconian Madstone at the end of the quest (in exchange for a reward), it is subsequently possible to steal it back: it is kept in a display case in the Great Hall at Bruma (opening the very hard display case is not a crime, but taking the Madstone is).