Oblivion:Culotte
The UESPWiki – Your source for The Elder Scrolls since 1995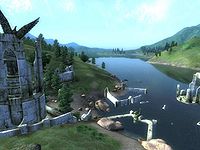 Culotte is a small Ayleid ruin southeast of the Imperial City containing undead (quest-related). It contains only one zone, Culotte.
Related Quests
[
edit
]
This ruin can be entered, fully explored and all items retrieved without starting the related quest. Selling the Ayleid Statue found in Culotte is one way to start the quest.
There is an Ayleid Well right next to the entrance, which will supply you with some potentially useful extra Magicka.
This ruin is fairly extensive on the surface. Inside, however, it is small and (at first) completely empty.
Exterior
[
edit
]
The exterior is located at coordinates: Tamriel 18, 3
This location's map marker (M on map) is named Culotte (editor name CulotteMapMarker). The entrance door is NW of the marker, 30 feet away.
1 Mud Crab may spawn on the shore near the entrance
1 Wilderness Creature (Farmlands variety) is near the entrance
1 Nirnroot is at location N on map
1 Ayleid Well is at location A on map
Zone 1: Culotte

[

edit

]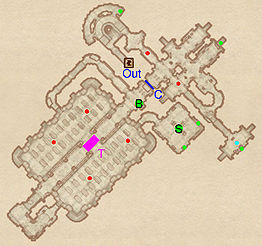 The dungeon is at first completely empty. The six zombies only appear after you have entered the room containing the Ayleid Statue (at S on the map). They appear even if you do not pick up the statue. To open gate C, which initially blocks your way, you will have to go down the stairs to the left and step on the pressure plate (cyan dot on map). The crumbling bridge trap (T) forces you to return to the entrance using the northern passageway out of the main room. This conveniently leads you to the boss-level Ayleid coffer (B), which is on an upper level and therefore cannot be accessed your first time past it.
Occupants:
Treasure:
Traps:
Doors and Gates:
There is one door (at Out) in/out of this zone, leading outside
1 Iron Gate, at C, is opened by stepping on the activation plate in the small room at the southeast end of the dungeon (the cyan dot on the map).