Lore:Suran
The UESPWiki – Your source for The Elder Scrolls since 1995
This page is currently being redesigned for the Lore Places Project (LPP).
The page may need work to meet the standards outlined on the project page.
This page or parts of this page were previously transcluded to other pages per this discussion.
This page should be checked for potential unrelated lore and other information. Please remove this banner when the page has been cleaned up.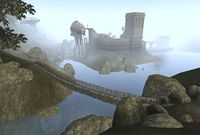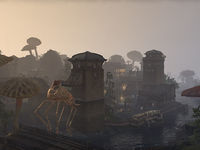 Suran was a medium-sized town situated on the eastern coast of Lake Masobi, within the Ascadian Isles. The town was constructed by the Hlaalu Construction Syndic in the mid-Second Era, having been contracted by House Redoran;[1] although some sources indicate that the original settlement had been built long before then.[2] Its architecture resembled a typical Hlaalu market town, complete with a watchtower and a small temple. House Redoran originally controlled the town, but it was later taken over by House Hlaalu.[1][3] During the late Third Era it served as the northern headquarters for Hlaalu slavers doing business with nearby plantations. Suran also functioned as a stopover for pilgrims and adventurers heading northeast into the Molag Amur region and Mount Kand.[3]
See Also
[
edit
]
References
[
edit
]
^ a b Hlaalu Construction Syndic — Manaran Renim, First Clerk of House Affairs, Vvardenfell