Lore:Fort Strand
The UESPWiki – Your source for The Elder Scrolls since 1995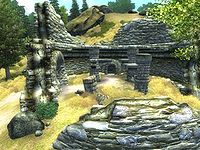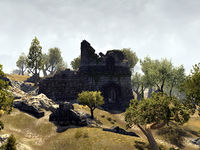 Fort Strand is a ruined fort located just east of Anvil, in the Gold Coast region of Cyrodiil. It has an extensive underground complex, including a large natural chasm and a subterranean chamber called the Great Dome.[1]
The fort was already a crumbling ruin by 2E 583, at which time it served as a smuggler den. A chest of First Era martial relics was taken to the ruins that year from a dig site at Tribune's Folly. The researchers hired the Dragonstar Caravan Company to recover the relics, as the chest was guarded by supernatural shadowy guardians sent by Lord Faleria.[2]
By 3E 433, the fort was home to a marauder gang. A local Nord named Bjalfi the Contemptible brought the Dwemer mace Rockshatter to the ruins when he joined the gang that year. He was killed when his deserted wife sent the Champion of Cyrodiil to the ruins to recover the mace.[1]
References
[
edit
]
^ Events of Dark Brotherhood