Arena:People
The UESPWiki – Your source for The Elder Scrolls since 1995
There are many NPCs (Non-Player Characters) or people in Arena. This page serves as a listing for them.
Barnabus
[
edit
]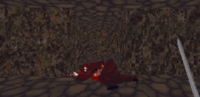 Barnabus of Tethis is a priest in the Brotherhood of Seth. After going berserk and killing Brother Martinus he fled from the temple to the Mines of Khuras in search of the Staff of Chaos.
Blubamka
[
edit
]
Queen Blubamka can be found anytime in Rihad Palace and helps you in your first quest, Fang Lair.
Casik is the king of Ebonheart. He can be found in Ebonheart Palace and helps you find Dagoth-Ur.
Corim Ashlen
[
edit
]
Corim Ashlen is Loremaster at the Mages Guild in Lillandril. He will task you to retrieve a treasured artifact that was stolen by priests of the Mad God who raided the guild a few nights before.
Culanthir
[
edit
]
A mausoleum with an inscription can be found within the Crypt of Hearts: "You stand near a mausoleum. A runic inscription reads, "Sir Culanthir - May he at last rest." The years seem to have rusted this iron gate shut. Even the ground is undisturbed. Your footfalls kick small clouds of dust that hang in the still, dead air." Apparently, Sir Culanthir is a vampire that inhabits the mausoleum.
Galandir
[
edit
]
Sir Galandir is the leader of a band of warrior-priests who he calls his 'knights', he can be found at the Temple of Agamanus. After attacking the Mages Guild in Corinth he stole a Stone Tablet from Turamane ap' Kolthis.
Golthog
[
edit
]
Golthog the Dark is the leader of a band of goblins that raided the stronghold at Rihad stealing valuable treasures. They can be found hiding out at the ancient ruined fortress called Stonekeep.
Halfas Varn
[
edit
]
Halfas Varn is a senior brother in the Brotherhood of Seth. He tasks you with finding Barnabas who fled the temple after going berserk, and killing Brother Martinus.
Idolan Lancaster
[
edit
]
Idolan Lancaster is the leader of the Conclave of Baal. He can help you find location of Murkwood, the dark forest that ever moves, if you help him recover a stone tablet that fell into the earth after one of the initiates triggered a spell of massive destructive potential.
Jagar Tharn
[
edit
]
Jagar Tharn, Imperial Battlemage of Uriel Septim VII and Arch-Traitor to the Empire. He is practically invulnerable, having secured his life-force in the Jewel of Fire, which conveniently lies nearby.
Kanen can be found in the Labyrinthian.
Martinus
[
edit
]
Brother Martinus is a priest in the Brotherhood of Seth. He is murdered by his fellow priest, Barnabas of Tethis.
Mogrus can be found in a cage in the Labyrinthian, across from his similarly caged key. Answering a riddle incorrectly causes Mogrus to be released and attack.
Ria Silmane
[
edit
]
Ria Silmane was the apprentice of Jagar Tharn. After Tharn took over the Imperial throne, he murdered Ria because he was not able to corrupt her. However, she kept her spirit bound to the mortal plane via her magic; yet her magicka reserves were constantly draining, limiting the time she had left. Ria could still cast magic, but it drained her energy even further. She aided the Eternal Champion in escaping the Imperial Prison and tracking down all eight pieces of the Staff of Chaos. She did not have a corporeal form, and she communicated largely through dreams and visions. She used up the last of her magicka to help the Champion infiltrate the Imperial Palace, and was never heard from again.
Selene is a High Priestess of Shagrath, the God of Spiders. She can be found in 'Selene's Web' near the city of Eldenroot. She is a powerful sorceress who consorts with the undead and has placed her life force into a jewel named the Heart of Selene. This powerful sorceress threatened all of Valenwood with an army of spider warriors.
Thelen Kaarn
[
edit
]
Thelen Kaarn is a mage at the Winterhold Mages Guild. He is a keen researcher, trying to decipher the Elder Scrolls. He can show you the way to Labyrinthian if you retrieve an object of unimaginable importance that was stolen by knights at the Fortress of Ice.
Turamane Ap'Kolthis
[
edit
]
Turamane ap' Kolthis is Loremaster at the Corinth Mages Guild. He will task you to retrieve a Stone Tablet that was stolen by Sir Galandir in exchange for the location of the legendary Halls of Colossus.
Ulandra
[
edit
]
Ulandra is the queen of Eldenroot. She can be found in Eldenroot Palace and helps you find the Elden Grove.
Underking
[
edit
]
Underking is the only named leader of various groups (other groups are described by names of the group, not their leader: Necromancers, Mages' Guild, Blades, Dark Brotherhood, Wharf Rats, Thieves' Guild and randomly generated families) who try to stop player from completing side quests or ambush him/her randomly.
Uriel Septim VII
[
edit
]
Emperor of Tamriel, he is currently held prisoner in another dimension by the treacherous Imperial Battlemage Jagar Tharn. You need to reassemble the Staff of Chaos to rescue him.
Warhaft
[
edit
]
General Warhaft is the general of the Imperial Guard under Emperor Uriel Septim VII, with whom he is currently held prisoner in another dimension by the treacherous Imperial Battlemage Jagar Tharn.
Zaraphus
[
edit
]
Zaraphus is a Demi-Lich who had a magical gem that could show the location of the Crystal Tower.