Arena:Jehanna
The UESPWiki – Your source for The Elder Scrolls since 1995
"Welcome to Jehanna, a city as beautiful as her name. We greet you, and wish you only peace on your stay..."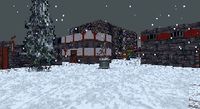 Jehanna is a city-state located on the northern coast of High Rock, near the border of Skyrim. The ruler is King Bedyctor. Its rival is Farrun.
Locations
[
edit
]
Inns

Black Guard
Blue Skull
Dancing Griffin
Devil's Bird
Dirty Golem
Flying Guard
Flying Helm
Green Dagger
Howling Wolf
King's Bird
King's Goblin
Lucky Bird
Queen's Golem
Red Castle
Red Griffin
Red Pit
Restless Djinn
Screaming Chasm
Silver Skull
White Djinn
White Helm

Temples

Conclave of Baal
Conclave of Temperance
Order of the Gentle Hand
Order of the Golden Tomb
Order of the Red Rose

Stores

Bargain Equipment Store
Bargain Supply Store
<random>'s Professional Armaments
<random>'s Finest Provisions
<random>'s Finest Accouterments
<random>'s Finest Armaments
<random>'s Tool Store
<random>'s General Sundries
New Gear Store
New Merchandise
Rare Accouterments
The Adventurer's Armaments
The Basic Merchandise
The Emperor's Tool Store
The Essential Equipment Store
The Essential Sundries
The Wyrm's Supply Store
The city-state Merchandise
The city-state Provisions
<random>'s Quality Weaponry Store
<random>'s Sundries
<random>'s Finest Sundries
Used Equipment Store
Used Gear Store
Vintage Merchandise
Vintage Tool Store
Jehanna is a possible starting location for Bretons.