Arena:Archon
The UESPWiki – Your source for The Elder Scrolls since 1995
"The city gate of Archon looms over you as you enter. People around you here seem to be avoiding eye contact..."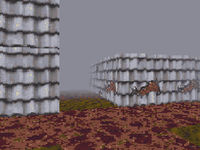 Archon is a city-state in southeastern Black Marsh, south of Thorn and east of Blackrose. Its ruler is King Herula. Its rivals are Lilmoth and Thorn.
Locations
[
edit
]
Inns

Dancing Tide
Devil's Serpent
Gold Noose
Green Sailor's
King's Mug
Laughing Dagger
Silver Cup
Thirsty Dagger
Thirsty Saber
Thirsty Wharf

Temples

Brotherhood of Charity
Brotherhood of Gideon
Brotherhood of Justice
Brotherhood of Mercy
Brotherhood of Temperance
Conclave of Baal
Conclave of Charity
Conclave of the One
Order of the One Prophet

Stores

<random>'s Quality Tool Store
Bargain Weaponry Store
<random>'s Weaponry Store
<random>'s Armaments
<random>'s Gear Store
<random>'s Finest Merchandise
<random>'s General Accouterments
New Accouterments
New Sundries
Rare Accouterments
Rare Merchandise
Rare Supply Store
The Adventurer's Equipment Store
The Basic Equipment Store
The Wyrm's Tool Store
The city-state Accouterments
Unearthed Equipment Store
Used Equipment Store
Vintage Provisions
Archon is a possible starting location for Argonians.