User:Vethrian
The UESPWiki – Your source for The Elder Scrolls since 1995
I'm Vethrian, a big fan of The Elder Scrolls series. I mainly enjoy helping people out in the Oblivion section of the Official Elder Scrolls forum. If you need anything, you can contact me there.
Mini Oblivion FAQ
[
edit
]
A collection of things that many new players ask frequently. Mainly on the forums.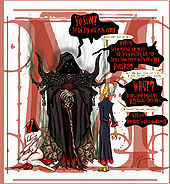 The Poisoned Apple cure for the PC is player.removespell 9617
Alchemy is a great way to make gold.
You cannot sell houses.
Mannimarco is not a Lich in Oblivion. See image at right.
The console cure for Vampirism: player.additem 9812D 1
Duping is still possible after the 1.2 patch, use scrolls.
PC: Make sure KOTN is the last DLC to load.
Rockmilk Cave for weapons and armor.
Robber's Glen Cave for enchanted jewelry.
Use Mandrake Root for cure disease. Don't bother making a potion.
Master alchemy apparatus cannot be bought.