Tribunal:Stendarr's Hammer
The UESPWiki – Your source for The Elder Scrolls since 1995
Artifact: Stendarr's Hammer

(stendar_hammer_unique)


(lore page)
Type
Blunt Two Hand
 Damage
Chop
20−100
Slash
10−80
Thrust
8−10
Ratio
100
Statistics
 Health
100
Speed
1.0
Reach
1.0
 Weight
1000.0
 Value
130,000
Enchantment
Charge/Cost = Uses
20/2=10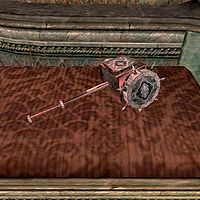 Stendarr's Hammer is the hammer of the eponymous god. It is mounted in the Museum of Artifacts in the Godsreach District of Mournhold.
Stendarr's Hammer has the highest maximum base damage value in the entire game (including all official expansions and plugins).
The tremendous weight of this hammer coupled with its weak condition makes it impractical for actual use, as it will more than likely break on the first swing, as well as expend all or most of your fatigue per hit.