Skyrim: 

Verner and Annekke's House

The UESPWiki – Your source for The Elder Scrolls since 1995

This article is being developed as part of the Skyrim Houses Redesign Project. If you see this tag it means the article can still be improved. Please see the project page for guidelines.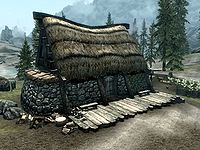 Verner and Annekke's House is the only house in Darkwater Crossing.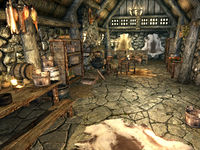 It is a single room dwelling, and home to Annekke Crag-Jumper and her husband Verner Rock-Chucker, the owners of Goldenrock Mine, and the original settlers of Darkwater Crossing.
Residents
[
edit
]
Walkthrough
[
edit
]
Exterior
[
edit
]
The house has a field attached, enclosed with wicker fencing and planted with seven bushels of wheat. There is a lean-to being used as a chicken coop with two nests in it, with two chickens and a goat wandering near the house. To the left of the chicken coop is a tanning rack and in front of the house, by the southwestern corner is a grindstone and a wood chopping block.
Verner and Annekke's House
[
edit
]
The entrance is novice-locked at night, but will be unlocked during the day. Against the west wall there are two food barrels in each corner separated by a cupboard holding three bottles of alto wine and two bottles of wine. There is a long wooden table against the north wall with a bottle of alto wine, a bottle of Nord mead and a bucket containing a few potatoes on it. Above this, hanging from the ceiling, are three garlic braids, two bunches of dried elves ear, a bunch of dried frost mirriam and a rack that holds three rabbits and three pheasants. To the right of the table is another food barrel and a set of shelves, the shelves hold four more bottles of alto wine and four more bottles of wine. To the right of the shelves is a fireplace with a round wooden table and two chairs in front. On the table is a bottle of alto wine, a bottle of wine and some bread and cheese. On the hearth there is a cooking pot and a kettle containing two leeks. On the east wall is an owned double bed with an end table to the left and an unlocked chest at the foot of the bed. There is a bottle of Nord mead on the end table. To the right of the bed, against the south wall is a tall wardrobe with a food barrel and dresser to the right. On the dresser are six corundum ingots, two pieces of corundum ore, a pickaxe and a bottle of Black-Briar mead.