Skyrim:Varnius Junius
The UESPWiki – Your source for The Elder Scrolls since 1995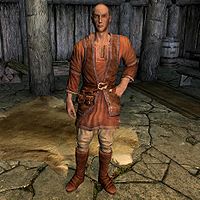 Varnius Junius is an Imperial farmer from Dragon Bridge. He is found in Solitude's Blue Palace appealing to Jarl Elisif to send additional guards to clear out Wolfskull Cave. Until Varnius' appeal is heard, you cannot interact with him.
Varnius wears a set of merchant clothes along with a pair of boots. He wields an iron dagger and carries a belted tunic along with a selection of common loot and gold.
Varnius will greet you by giving you some advice: "Respect the law, and you'll have no trouble in Dragon Bridge." He will then advise you not to upset his nonexistent employer, Tasius Tragus: "Mind you don't cross Tassius [sic]. He's in charge around here." He clearly does not want any trouble in his life, as he will often tell you: "Don't start any trouble and I think we'll get along just fine." He will then elaborate on this: "At least, if you're gonna cause trouble, go somewhere else, okay? Please?"
Related Quests
[
edit
]
He talks about his employer Tasius Tragus, an NPC that was not implemented in the final game.
Sometimes Varnius will not start his appeal when you approach the throne. This can be solved by pushing Varnius from where he is standing. ?

This can also happen if the Bards College quest Tending the Flames has started. Completing the quest can make Varnius start talking the next time you enter the Palace.

He walks back and forth between Dragon Bridge and the Blue Palace.
For unknown reasons, it is possible for the quest not to advance to stage 15 when you enter the court. ?

You can use the console command setstage MS06Start 15 to force this step to initiate.

The Man Who Cried Wolf quest fails to begin during some parts of the main quest. Varnius Junius will not approach the jarl and it will be impossible to begin the quest. To fix this issue, either complete the civil war quests, or finish the main quest (if you choose to hold a peace negotiation). ?