Skyrim:Tulvur
The UESPWiki – Your source for The Elder Scrolls since 1995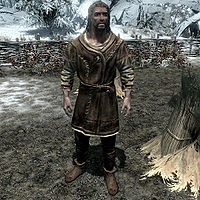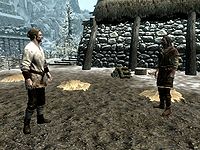 Tulvur is a Nord farmer living at Hollyfrost Farm east of Windhelm. He lives there alone with two dogs, Tiber and Ysgramor.
He gets out of bed every day at 8am and always starts the day with a one-hour meal. At 9am he heads outside and starts working the land and is soon joined by farm owner Torsten Cruel-Sea who helps him out for a few hours. At 7pm Tulvur returns to the farmhouse and enjoys a one-hour dinner, then spends the rest of the evening loitering around until he goes to bed at midnight.
He wears a belted tunic and boots and carries an iron dagger, the farmhouse key and a selection of common items and gold.
When approached he will tell you, "Master Cruel-Sea comes and works the fields sometimes. I don't think the Mistress likes it, but she won't come out here to catch him." He will also reveal his plans to get the two residing dogs to help him with his work: "I wonder if I could put the dogs to work somehow. But I don't really have the heart to force them." He reasons with: "Once the sun goes down, it's just me and the dogs. They keep me warm, and don't talk too much."
When Torsten pays a visit, the two men may engage in random conversations:
Tulvur: "Sir, I'm going to need some better equipment if you want me plowing the frost."
Torsten: "Like what?"
Tulvur: "Well, some tools that aren't rusted through would be a start."
Torsten: "I'll provide you wood and timber to make whatever riggings you'll need."
Tulvur: "I'm not building a ship, sir. I'm trying to make things grow."

Torsten: "Tulvur! I've just completed inspection of the farmhouse."
Tulvur: "Oh?"
Torsten: "It's filthy in there! Dirt everywhere, and it looks like the dogs have the run of the place."
Tulvur: "Well, sir, it's a farmhouse. It's not going to be as clean as your house in the city."
Torsten: "I just know that our sailors are able to keep their ship quarters clean, and I expect the same of you."
Tulvur: "I'll do my best, sir."
Related Quests
[
edit
]
Two conversations between Tulvur and Torsten's wife, Hillevi Cruel-Sea were recorded but, as Hillevi never gets near the farm, are never heard in the game:
Tulvur: "And what about the dogs? How are those precious little angels?"
Hillevi: "Healthy and strong. Ysgramor's coat's gotten so thick, he looks fat!"
Tulvur: "Oh, that's just adorable."
Hillevi: "How have things been with you?"
Tulvur: "I got another harangue from Torsten yesterday."
Hillevi: "Don't worry about him. I know you work hard, and I'm the one who gets you your money."
Tulvur: "Thank you, miss, I appreciate that."