Skyrim:Throw Voice
The UESPWiki – Your source for The Elder Scrolls since 1995
Throw Voice
(00

07097f

)
The Thu'um is heard, but its source unknown, fooling those into seeking it out.
Thu'um

ZUL




Zul
Voice

M9




Mey
Fool

GUT




Gut
Far

ID

00

0602a0

00

0602a1

00

0602a2

Effects
Recharge
Spell ID
Zul
Throws voice
30
00

07430f

Zul Mey
Throws voice
15
00

07430f

Zul Mey Gut
Throws voice
5
00

07430f

Locations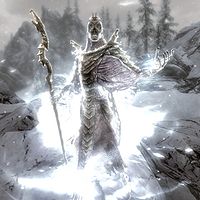 Throw Voice is a dragon shout that causes the shout to be heard from the point on a surface the player is targeting. Enemies will often go investigate the sound, allowing it to be used as a distraction. The shout has a limited range, and only fools those who have not spotted you.
All three levels of the shout are identical in effect. Using more words allows a shorter recharge time. Even though all three words are learned together, each word requires its own dragon soul to unlock it.
"Hey, slug-breath!"
"Hey, melon-nose!"
"Hey, cheese brain!"
"Hey, ugly!"
"Hey, troll bait!"
"Hey, skeever butt!"
Word Wall Translations
[
edit
]
Thu'um
Word Wall
Translation
Transliteration
Zul, Mey, Gut
MODIR FIN

GUT

W4L1N QETHSEGOL
Z9M43 V4RUKT OSKAR
FIN

M9

WEN

ZUL

LOS S4LO 4RK
NI S4ROT TH5M DO OK BROD
Modir the

Far

raised (this) stone
(in his) brother's memory, Oskar
the

Fool

, whose

voice

was weak and
not (the) mighty shout of his clan.
MODIR FIN

GUT

WahLaaN QETHSEGOL
ZeyMahii VahRUKT OSKAR
FIN

Mey

WEN

ZUL

LOS SahLO ahRK
NI SahROT THuuM DO OK BROD
The audio for the voice may not play for Argonians, Elves, female Orcs, or female Khajiit.
The voice may sometimes play talking to any NPC.