Skyrim:Thalmor Prisoner
The UESPWiki – Your source for The Elder Scrolls since 1995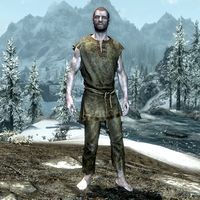 The Thalmor Prisoner is a Nord soldier who has been captured by Thalmor soldiers. He is being escorted by a Justiciar and two Thalmor soldiers.
You have the option to free them, and even share items after they are freed. They have one line of dialogue, no matter if you free him or not, "If you know any true sons and daughters of Skyrim, tell them to head to Windhelm. Ulfric Stormcloak wants to see them."
If they are freed, you can escort them back to Windhelm, where he waits inside the Palace of the Kings.
He wears a roughspun tunic and carries nothing.