Skyrim:Sanctuary
The UESPWiki – Your source for The Elder Scrolls since 1995
This page is currently being rewritten as part of the Skyrim Quest Redesign Project.
The page is being rewritten and checked in several stages. All users are welcome to make changes to the page. If you make a change that is relevant to the project, please update this template accordingly, and make sure you have observed the project guidelines.

Quick Walkthrough
[
edit
]
Finish talking to Astrid.
Meet your new family members.
Speak to Nazir and pick up your contracts.
Detailed Walkthrough
[
edit
]
After speaking to Astrid, turn back and search the shelves for a copy of the Alteration skill book Sithis, and a set of shrouded robes. Enter the room behind the map table and pick up the unusual gem, sitting on the dresser to the left, for the quest No Stone Unturned.
A Happy Little Family
[
edit
]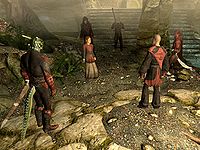 Descend the steps by Astrid and join the other members in listening to Babette recounting her last contract. After she tells her tale the others will have a light-hearted banter about how difficult each others contracts were, highlighting how dysfunctional the little "family" really is:
Arnbjorn: "Ha ha ha ha ha ha ha!"
Veezara: "Ha ha ha ha! Again! Again! Do the part where he tries to buy you some candy."
Babette: "Okay, okay. Wait. Here we go. "Ooh, you are such a pretty little girl. Would the sweetie like a sweetie? Oh yes, how about some chocolate?" Oh yes, please, kind sir. My mama and papa left me all alone, and I'm so very hungry. I know a shortcut to the candy shop. Through this alley. Oh ya, very good. Very good. My it is dark down here. Oh, but you are so beautiful. Such a lovely smile. Your teeth... your teeth! No! Aggghh!!"
Gabriella: "Oh Babette, but you are so wicked."
Nazir: "What about you, Festus? How did that last contract turn out?"
Arnbjorn: "Oh, yes, please, old man. Regale us with your tales of wizardry..."
Festus Krex: "Ah, the young and stupid. Always mocking the experienced and brilliant. My contract went very well, I'll have you know. Tried a new spell. Little something I've been working on in my spare time. Came "this" close to turning that priest inside out. Damned messy."
Gabriella: "And what of your latest, Arnbjorn. Something about a Khajiit? Merchant was it?"
Babette: "Oh, a big doggy chasing a little kitty! How adorable!"
Nazir: "Ha ha ha ha ha ha ha ha ha!"
Festus: "Ha ha ha ha ha ha ha ha ha!"
Veezara: "Ha ha ha ha ha ha ha ha ha!"
Arnbjorn: "I am not adorable, it was not funny, and he wasn't a merchant. He was a Khajiit monk, a master of the Whispering Fang style. But now he's dead... and I have a new loincloth."
Accepting the Contract
[
edit
]
When the gathering breaks up, move to the word wall to the north of the room and absorb the word for the Marked for Death shout. If you pass near Babette she will remark "Heard she pulled the ole' "Choose your victim" gag with you. Ah, I love that one...", shedding some light as to the real victim of the last quest.
When you accept a contract you will be unable to interact normally with your target, preventing you from completing any quests involving them. Check the notes section before taking any contracts.
Nazir moves to the brazier near the pool and awaits your "valued" input. No matter what way the discussion proceeds, he will mock your talents, going as far as saying "I have no intention of getting invested in someone who may be dead tomorrow." Finish speaking to Nazir to pick up your first contracts. There are three assassination jobs. You can do each one at a time and return for payment, or you can do all three and return to Nazir once completed. The three contracts are for Narfi, Ennodius Papius and Beitild.
Narfi is involved in the quest The Straw that Broke. Therefore, once the contract is accepted, it will not be possible to complete this quest.
You do not have to listen to the gathering. If you talk to Nazir straight away, the group breaks up, however this is the only time this conversation is heard.
The non-armor version of the Shrouded Armor consists of Hand Wraps, a Hood, Robes, and Shoes. These are the clothing version of the armor, which is designed for mages. The Maskless Cowl sitting with them is considered to be Light Armor.
Quest Stages
[
edit
]
Sanctuary (DB02a)
Stage
Finishes Quest
Journal Entry
10
I must speak with Nazir, in the Dark Brotherhood Sanctuary, and receive my first assassination contracts.

Objective 10: Speak with Nazir

20

Objective 20: Receive the first set of contracts from Nazir

200
I have spoken to Nazir and received my first set of contracts.
The following empty quest stages were omitted from the table: 0, 255.