Skyrim:Nix-Hound (creature)
The UESPWiki – Your source for The Elder Scrolls since 1995
This page or section is incomplete. You can help by adding to it.
needs table for generic creatures and missing infobox data for pet
For more information, see the help files, the style guide, and this article's talk page.
Nix-Hounds are insectoid creatures added by the Nix-Hound Creation. Originally native to Morrowind, they have been introduced to the island of Solstheim in recent years. For more information, see the lore article.
Nix-Hounds drop a sample of Nix-Hound Meat when killed.
Wild Nix-Hounds
[
edit
]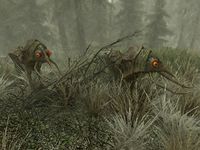 Wild Nix-Hound enemies can be found throughout the wilderness of Solstheim with this Creation installed. They can be found alone or in small groups, and will attack on sight.
Pet Nix-Hound
[
edit
]
A pet Nix-Hound can be purchased from Revus Sarvani (or Geldis Sadri if Revus is already dead) as part of the related quest.
The nix-hound is essential, and will not engage in combat. Its main function is to carry items, and it has a carry weight of 75 and it will follow you even if you already have another pet following you. You can instruct it to wait at a city, wait at its current location, wait at your house, or to carry items. It can also be summoned using a teleportation spell. The nix-hound cannot be detected by Detect Dead or Detect Life.
If following you, it will occasionally give you a random ingredient[verification needed — need full list]. When this happens, you will receive a message saying, "Nix-Hound found something..."
Related Quests
[
edit
]