Skyrim:Miner's House
The UESPWiki – Your source for The Elder Scrolls since 1995
This article is being developed as part of the Skyrim Houses Redesign Project. If you see this tag it means the article can still be improved. Please see the project page for guidelines.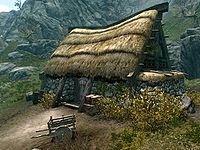 The Miner's House is a single room cottage next to Soljund's Sinkhole.
It is the home of Tuthul and Perth, the miners at Soljund's Sinkhole.
Residents
[
edit
]
Miner's House
[
edit
]
The entrance is novice locked most of the time. Upon entering there is a cupboard against the south wall holding a potion of minor healing, a potion of true shot, an iron sword, four loose iron arrows and two sabre cat pelts, with a food barrel to the right. Against the west wall is a long wooden table with two pickaxes, a bottle of alto wine and a bottle of wine on top. To the right, in the northwest corner is an unlocked chest, with two garlic braids, a bunch of dried elves ear and a bunch of frost mirriam hanging from the ceiling above. While against the north wall is another long wooden table with two bottles of alto wine, a bottle of wine, a portion of grilled leeks, a salmon steak, a seared slaughterfish, a baked potato, a raw rabbit leg, a pheasant breast, a few loaves of bread and several pieces of cheese. Hanging from racks above the table are four rabbits, four pheasants and two salmon. There is a fireplace opposite the entrance with a woodcutter's axe leaning against a pile of firewood and an unlocked chest to the right of the fireplace. There are two single owned beds coming out from the east wall and an end table between them with a bottle of alto wine and a bottle of wine on top. At the foot of the right-hand bed, against the south wall is a small round wooden table and a chair, with two bottles of alto wine and a loaf of bread on top of the table.