Skyrim:Marise Aravel's House
The UESPWiki – Your source for The Elder Scrolls since 1995
This article is being developed as part of the Skyrim Houses Redesign Project. If you see this tag it means the article can still be improved. Please see the project page for guidelines.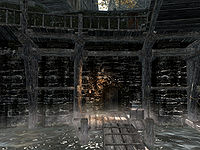 Marise Aravel's House is a house located on the lower level in Riften. It is found down by the canal that flows through the middle of Riften and is the first house on the left when coming from Elgrim's Elixirs. Below the Temple of Mara, and east of the entrance to the Ratway.
Residents
[
edit
]
Related Quests
[
edit
]
Note: This location is one of many potential targets for one or more of the radiant quests found on this page.
Walkthrough
[
edit
]
Marise Aravel's House
[
edit
]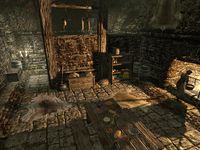 The front door is apprentice locked both at night and during the day while Marise is selling foodstuffs at her cart by the marketplace. Her home is one room divided by a partial wall. The main living area consists of a central dining table and benches. On the table is a bottle of alto wine, a bottle of wine, two boiled creme treats, some bread, an eidar cheese wheel, a salmon steak and an apple pie. Against the east wall, opposite the entrance is a fireplace with a cooking pot in front and a piece of firewood to the right.
On the south wall is a shelf holding a bottle of wine with two garlic braids, two bunches of elves ear and a bunch of frost mirriam all hanging above the shelf. Against the partial north wall is a dresser and a set of shelves. On the shelves are two bottles of Nord mead, a bottle of alto wine, a bottle of wine, a cabbage, four potatoes, a couple of loaves of bread and several pieces of cheese. On top of these shelves contained in a basket is a copy of the Alteration skill book Reality & Other Falsehoods. While above the wall are a couple of hanging racks that hold two rabbits and a pheasant. There are sacks and barrels all containing foodstuffs all around the room.
To the north is her bedroom area, which consists of an owned single bed coming out from the east wall with several crates, sacks and an end table beside it. Under the bed is a small coin purse. On the end table is a bottle of wine and a copy of Watcher of Stones. On one of the crates is a copy of Kolb & the Dragon. There is a wardrobe against the north wall containing clothes along with an unlocked chest and food barrel against the west wall.
There is a Loot shadowmark on the right door step. There is a chest with minor loot inside.