Skyrim: Jala's House
The UESPWiki – Your source for The Elder Scrolls since 1995
This article is being developed as part of the Skyrim Houses Redesign Project. If you see this tag it means the article can still be improved. Please see the project page for guidelines.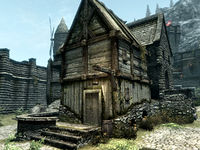 Jala's House is a small house owned by Jala in Solitude, located next to the Bards College. She lives there along with Ahtar.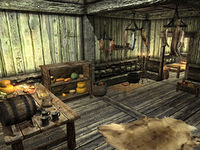 Jala leaves her house every morning and returns home at 8pm. The house is locked while she is away.
Residents
[
edit
]
* This person only sells goods at the market.
Related Quests
[
edit
]
Note: This location is one of many potential targets for one or more of the radiant quests found on this page.
Walkthrough
[
edit
]
Exterior
[
edit
]
Jala's house backs onto Evette San's house and the entrance is opposite the courtyard in front of the Bards College. There are three dragon's Tongue plants growing along the side of her house. There is an

Empty shadowmark on a barrel by the entrance door, which is novice locked.
Jala's House
[
edit
]
Upon entering you are in a large room with the staircase to the top floor in front of you. On your right as you enter is a small unit holding a woodcutter's axe and a knapsack. On your left is a table holding two potatoes, several loaves of bread, a portion of grilled leeks, a baked potato, several cheese wheels and wedges, a seared slaughtergish, a salmon steak, a raw rabbit leg and a pheasant breast. Against the southeast wall is a small set of shelves with more bread and cheese, along with a cabbage and potatoes. To the right of this is a basket on the floor containing two cabbages and several potatoes and a pheasant that has fallen from a rack overhead. There are a total of three racks hanging from the ceiling holding three further pheasant, two salmon and four rabbits. On the floor, next to the same wall is a copy of the Two-handed skill book Song Of Hrormir. Above the book there is a wall shelf holding a bottle of wine.
Under the stairs are a pile of sacks, all containing foodstuffs. In the northern corner of the room are two sets of shelves containing more loaves of bread, several cheese wheels and wedges, more potatoes and cabbages, an iron helmet and an iron ingot. To the left of the shelves is a barrel with a further eight iron ingot on top. There are three barrels, more sacks and a basket all containing foodstuffs. In the western corner is a doorway to a bedroom with an open crate to the right of the doorway, it contains a sample of fly amanita, a gourd, a rock warbler egg and an orange dartwing.
In the bedroom, the bed is in the western corner with a couple of sacks of food at the foot of the bed. There is an end table to the right of the bed with a bottle of wine on top. To the right of this is a small unit holding a woodcutter's axe, a bottle of Nord mead and an open crate containing the same as the one by the doorway. There is a wall shelf above the unit holding a small coin purse.
Climbing the stairs, there is a small set of shelves in front of you holding a horker tusk, a cave bear pelt, a red mountain flower and a basket containing two bunches of lavender. Along the northwest wall is a table and chairs with a loaf of bread and a goat cheese wedge on top. Against the southwest wall is a dresser containing clothes and having a bunch of lavender and a bowl containing a red and purple mountain flower. To the left of this is an unlocked chest, that may be empty. Opposite is a second chest, also unlocked and potentially empty. To the right of the second chest, in the eastern corner of a railing is a single unowned bed, with an end table holding an iron helmet beside it.
The key to the house is carried by Ahtar and Jala.
There is an Empty shadowmark on a barrel by the entrance door, even though the Thieves Guild considers her house to be a wealthy house. The house will not be empty if you are sent here on one of Vex's thievery jobs.
If you are sent here for The Burglary Job, the required item is found on a nightstand upstairs.