Skyrim:Guard Barracks (Gate)
The UESPWiki – Your source for The Elder Scrolls since 1995
This article is being developed as part of the Skyrim Houses Redesign Project. If you see this tag it means the article can still be improved. Please see the project page for guidelines.
This article is about the barracks by the gate. For the main barracks, see Guard Barracks.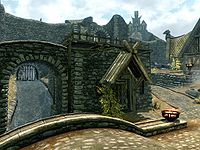 Guard Barracks is a building near the main gate in Whiterun. It is located across the street from Warmaiden's.
It is used by Whiterun Guards as an alternative to the bigger, and similar named barracks behind the Bannered Mare.
Residents
[
edit
]
Guard Barracks
[
edit
]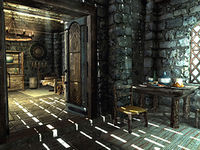 The barracks consists of two cramped rooms, a dining room often used by a single guard, and a sleeping area with four owned beds. The dining room contains two chairs by a table, a minor loot chest, a food barrel, and four food sacks. The small table seats two and has some food on display, two baked potatoes, a salmon steak, a sweet roll, and a bottle of wine. A set of shelves contains a chunk of raw beef, the loaves of bread, and a goat cheese wedge, some sliced goat cheese, and sliced eidar cheese.
The sleeping area contains four beds squeezed head-to-toe between the north and south walls with an end table with clutter between them. The end table to the east has a bottle of ale and two honey nut treats on top and a pair of boots on the floor below. A copy of Beggar Prince is carelessly thrown on the floor in the northeastern corner. The shelves along the northern wall hold two bottles of wine, two bottles of ale, and a head of cabbage. The cupboard under the shelves holds clutter. Under the cupboard sits a pair of boots and, placed on a stool, a hat.
There is a "Danger" shadowmark around the right corner from the door and double marked low down on the wall and a wooden support.
If the Stormcloaks takes over Whiterun during Battle for Whiterun, nobody will live in the barracks and all items will be free to take.
There are four food barrels on the roof of the barracks.