Skyrim:Frofnir Trollsbane
The UESPWiki – Your source for The Elder Scrolls since 1995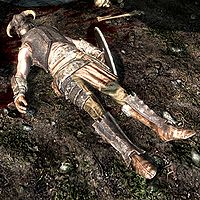 Frofnir Trollsbane is a Nord bandit who can be found deceased in a troll's den between Cradle Stone Tower and Valthume. An easy way of finding him is to find the iron ore vein that is to the west of Cradle Stone Tower and then rock climb north-northwesterly down to him, near two trolls.
He wears a full set of iron armor and carries a banded iron shield, a long bow supplemented by iron arrows, and the unique warhammer Trollsbane.
There is a dead elk and a portion of venison as well as numerous troll skulls, other human and animal bones scattered around him. Further to the west are several bird's nests with either pine thrush eggs or rock warbler eggs.