Skyrim:Bolfrida Brandy-Mug
The UESPWiki – Your source for The Elder Scrolls since 1995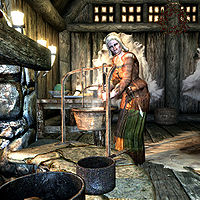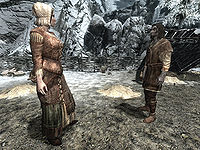 Bolfrida Brandy-Mug is a Nord farmer who lives and works at Brandy-Mug Farm, a short distance east of Windhelm Stables. She lives with a goat and two chickens. She grows wheat and snowberries in the field beside her small cottage and will pay you five gold for every piece of wheat you bring to her.
She wears some farm clothes, a pair of boots, and a hat. She wields an iron dagger, and carries a key to her farmhouse and some common loot and gold.
She gets up early at 6am and eats a one-hour breakfast. She then goes out at 7am to her farm, and works for eight hours. When she is done at the farm for the day, at 3pm, she heads back to her house. She then hangs out in her house for a couple hours, eating a two hour dinner at 5pm, and going to bed at 11pm.
She is friendly to visitors, saying, "Welcome, welcome, welcome! Don't see many strangers out here. Come to get your hands dirty on a real farm?" She also surprisingly seems to love her job and keeps a positive attitude, saying, "Nothing tastes better than food you've grown yourself. Something magic about dirt and sunshine making food." or "The weather's harsh, but I like to think my sunny personality is what helps the grain grow."
She can be seen conversing with her one employee, Faryl Atheron, about the farm:
Faryl: "I don't think we're going to get those potatoes to come in."
Bolfrida: "Well of course, not with an attitude like that!"
Faryl: "The ground is practically frozen. We can't dig down far enough."
Bolfrida: "Come on, we just need a little elbow grease."
Bolfrida: "I'll bet this is better than trying to grow something in Morrowind, though, isn't it?"
Faryl: "Firstly, I've never even seen Morrowind. Secondly, in volcanic soil the plants practically grow themselves."
Bolfrida: "Oh, my, I hadn't thought of that."
Faryl: "There are places in the world that aren't wrapped in ice, you know."
Bolfrida: "Now, I've been reading about the best ways to grow corn in permafrost..."
Faryl: "I keep telling you, without a warming enchantment, it will never grow past your ankles."
Bolfrida: "Right, but if you plow the soil with fire salts..."
Faryl: "Then you've salted it and nothing will grow at all. Genius."
Bolfrida: "Oh dear, I hadn't thought of that."
Related Quests
[
edit
]