Shivering:Mute Screaming Maw
The UESPWiki – Your source for The Elder Scrolls since 1995
Mute Screaming Maw
00

081E9A


00

081EA5

1
0.1
Alchemy Effects
1st
 Restore Willpower
2nd
 Detect Life
3rd
 Chameleon
4th
 Restore Health
Sources
# Samples
0
Plant
Mute Screaming Maw
 %
100
# Plants
3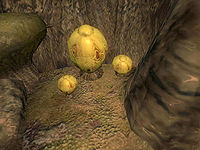 Mute Screaming Maw is an ingredient that can be harvested from one of three rare "Mute Screaming Maw" plants. Mute Screaming Maw has all the same alchemical properties as standard Screaming Maw. Therefore, the two can be combined to easily create multiple effect potions.
Mute Screaming Maw is one of three unusual ingredients that can be given to the Museum of Oddities (the other two are Blind Watcher's Eyes and Deformed Swamp Tentacles). You will receive a finders fee of 200 gold. Only one maw is needed for the quest; any additional ones that are collected can be used as regular alchemy ingredients.
Related Quests
[
edit
]
There are two versions of this ingredient: the variant with id=00081EA5 only occurs when the player hands over a plant as part of the Museum of Oddities quest. It has a script that changes it to the first variety when picked up thus it can only be acquired through use of the Console.
There are three Mute Screaming Maw plants. Although from a distance the plants appear similar to standard Screaming Maw plants, the plant name is different.
1 plant is in Corpserot Prison. There is a swampy hallway on the far west side with two Screaming Maw plants, one of which is a mute plant. You only gain access to this area after being arrested by Dark Seducers.
1 plant is in Cann, Arena zone. Take a right coming from the Halls of Tranquility and go through the passage until you come to an alcove-like room. There is a group of Screaming Maws; it is at the back of the group.
1 plant is in Dunroot Burrow, Bramble Halls zone.