Shivering:Longtooth Camp
The UESPWiki – Your source for The Elder Scrolls since 1995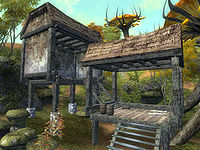 Longtooth Camp is a campsite north of The Fringe containing Heretics or Zealots (quest-related).
The campsite is found on an unmarked road and is inhabited by a group of Heretics who are constantly warring with Zealots from Hardscrabble Camp over a fork. Before the related quest, only one Heretic is present.
When the related quest is active, a Heretic boss and two followers will arrive to replace the previous Heretic. The rival Zealot group will attack the camp to steal the Fork. As the Zealots enjoy a numerical advantage, they are likely to kill all the Heretics. The Zealot boss will return to Hardscrabble to store the precious fork, but the surviving Zealots will stay put. Once the quest is over, the camp will revert back to normal and you will only find the one Heretic.
The camp itself consists of two platforms connected by a set of steps: the first platform contains two bedrolls and a minor loot chest with the book Bark and Sap placed on top of it. Continuing up another flight of stairs, the second platform consists of two bedrolls, a small shrine with the bust of Sheogorath (see Notes below), a jewelry box and the book Heretical Thoughts. On a nearby table are the book The Predecessors and the Fork of Horripilation.
Occupants
1 leveled Heretics
1 leveled Heretic Crusader (boss - quest related)
2 leveled Heretics (quest related)
Contents
Flora
Related Quests
[
edit
]
The small shrine consisting of the bust of Sheogorath, where the jewelry box is located, is particularly odd for a group of Heretics, considering they neither believe in nor worship Lord Sheogorath, and are in fact perpetually attempting to overthrow his rule. The presence of the book 'Heretical Thoughts', lying directly in front of the statue and stating this information, makes it all the more odd.