Online:Valderyorian
The UESPWiki – Your source for The Elder Scrolls since 1995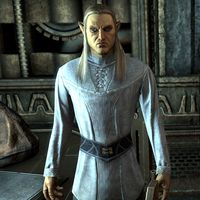 Valderyorian is an Altmer mage found poring over sequence plaques in the Brass Fortress' inn, The Cloisters. He is studying the advancements made in Clockwork City and hopes to bring them back to Tamriel with him.
When spoken to:
"The technology here is decades beyond what we have in the rest of Tamriel. Centuries even! Think of the advancements that could be made if I brought this information back to Auridon."
"There's so much to learn, and I'm making sure to write everything down! Well, engrave everything down I suppose. These sequence plaques may be wondrous, but they're not the easiest to take notes with."
"The Clockwork Apostles may not appear friendly at first, but after showing enough intellectual curiosity they open right up about their work."
"Information here is not only accessible, it's encouraged to be learned! Not hoarded away in musty libraries where only a privileged few can read it."