Online:Underfoot
The UESPWiki – Your source for The Elder Scrolls since 1995
| | | | | |
| --- | --- | --- | --- | --- |
| | | Rescue three villagers who have been turned into skeevers. | | |
A strange woman came up to me as I was walking through the woods. She said something about skeevers before leading me into the hills.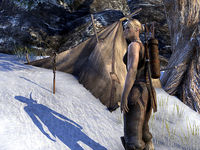 Quick Walkthrough
[
edit
]
Talk to Molla.
Follow Molla to a wand planted in the snow and pick up the wand.
Locate Faltha, Runs-in-Wild, and Brend in three different areas of the island and use the wand on them.
Talk to Molla again in Bleakrock Village.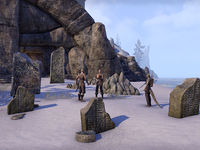 Detailed Walkthrough
[
edit
]
Talk to Molla who runs in circles to the north of Bleakrock Village. She squeaks at you, but when you ask if you can help, she can talk again (to her own astonishment), but instead of telling you the whole story she offers you to show what happened. Follow her to a wand planted in the snow, where she will tell you to pick it up. Only after you are able to pick up the wand will she tell that she and several others were turned into skeevers by a mage who left this wand behind. She is not sure how this wand works, only that she was not able to pick it up herself. She thinks the wand will do or undo the spell, and asks you to use it to save her three friends, Faltha, Runs-in-Wild, and Brend.
Faltha is to the east of the Hunter's Camp, Runs-in-Wild is to the east of Orkey's Hollow, and Brend is to the southwest of Halmaera's house. The quest pointer wouldn't give you a precise location, but an area instead; in each area, you have to find a skeever running around and interact with it. After transforming all three, find Molla and others on the southern side of Bleakrock Village, near the entrance to the tomb.
Quest Stages
[
edit
]
Underfoot
Finishes Quest
Journal Entry
Molla wants me to follow her. I'll see what's going on.

Objective: Follow Molla

Molla led me to a wand. I'm not sure what's important about it, but it's obvious she wants me to pick it up.

Objective: Pick Up the Wand

Molla finally seems ready to talk to me. I should see what her story is.

Objective: Talk to Molla

Molla told me a mad mage assaulted her and her friends. She's asked me to restore her friends. They've scattered across the island, and they're now skeevers.

Objective: Save Faltha

Objective: Save Runs-in-Wild

Objective: Save Brend

I've restored Molla's hunting party to its proper shapes and sizes. I should find her in the village and speak with her again.

Objective: Talk to Molla