Online:Thulga, Empress of Bone
The UESPWiki – Your source for The Elder Scrolls since 1995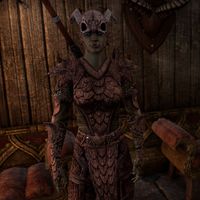 Thulga, Empress of Bone is an Orc member of the Undaunted, who can be found at The Waxing Crescent in Rawl'kha. She will insist that you buy her a drink for 0000006969 

. This counts towards the This One's On Me achievement. She will then tell you about Selene's Web, adding it to your map if you have not yet discovered it.
Dialogue
[
edit
]
If you're not Undaunted:
"The Empress of Bone does not wish to speak with you."
If you are Undaunted, Thulga will have some demands for you:
"The Empress of Bone is thirsty. Buy her a drink! Now!"
Do you want a drink?
"That is what the Empress of Bone said!"
"Excellent. The sober world bores and infuriates the Empress of Bone."
After buying her a drink, she will be willing to deign to speak to you:
"You are a friend of the Empress of Bone. You will be allowed to live when the Empress destroys this world and replaces it with nothing but bone."

Do you know where I might find a challenge?
"Selene's Web, buried in the jungles of Reaper's March, is a forest untamed.
Few bother to venture there—nothing to see, nothing to find—but a large contingent of Guild Mages was seen in and out of there, recently."

What are the Guild Mages doing there?
"The Empress doesn't care.
The only thing the Empress knows is that where there are mages, there are bones. Carried in their pouches—and their bodies, if they prove to be troublesome. The Empress would go, but the Empress has a drink to finish."

Who are you?
"Is it not obvious? I'm the Empress of Bone!
The only one that the Undaunted have got!"

Why are you called the Empress of Bone?
"Because I love bones! Fashionable and practical!
Once tore a rib right out of an Orc—do you know how hard that is? Orc bones are like steel! Then I clubbed the bastard unconscious with it!"
Achievements
[
edit
]