Online:Thaelril
The UESPWiki – Your source for The Elder Scrolls since 1995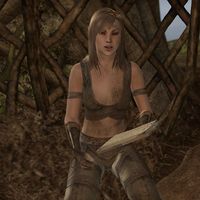 Thaelril is a Bosmer located in the Shrouded Vale.
Dialogue
[
edit
]
"Welcome to the Shrouded Hollow! Will you be sojourning with us? Or are you simply a visitor?"

Doesn't anyone here find it strange that your village appears out of nowhere?

"Strange? No, of course not! It's how we've always lived. I sometimes wonder whether I should leave. Stay with my cousins in Elden Root, perhaps. But my father likes keeping his family together. There'll be time to explore when he's gone."

How long have you lived this way?

"Personally, for about forty years. I was born during our last visit.
That's what some of us call our time away: a visit. It's very lovely. So much so, I wonder why we bother Valenwood at all! Seems terribly inconvenient. "

Where did this village come from?

"We're from here, and go there. It's hard to describe.
I actually don't give it all that much thought. I'm sure you'll find many others feel the same way. Why worry about it when our visits happen so smoothly."