Online:Tand
The UESPWiki – Your source for The Elder Scrolls since 1995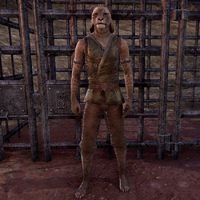 Tand is an unfortunate Khajiit who has become entrapped in Hadran's Caravan for failing to pay his debts to Hadran. You are tasked with finding him by his life mate, Sind.
Tand sought to make money at the caravan by gambling to take care of his family. His plans went south.
Related Quests
[
edit
]
Quest-Related Events
[
edit
]
Into the Vice Den
[
edit
]
During this quest, you are tasked with learning more regarding Tand's whereabouts. He has no physical involvement with this quest, tho ugh he is the subject of interest.
Hadran's Fall
[
edit
]
You are tasked with rescuing Tand, who is being kept in a cage in the back of the settlement. Unlock his cage.
Tand: "Many thanks. We must get out of here!"
You can speak with him after you unlock his cage.
"Tand thought he was going to be sold! This one thanks you for your help!"
What happened to you?
"Tand came here … he thought he could win money enough to open a tavern. Make his father and his Sind proud. Before this one knew what was happening, he was dragged off by Hadran and his strongmen. They said they would sell this one to slavers!"
I need to get you out of here.
"Yes, yes, we must leave. The gate to the outside is just around the corner! Sind must be worried sick over this one."
Speaking to him again:
"My life mate must have been sick with worry. I never thought I would see Sind again. This one doesn't deserve him."
Speaking to him after returning to Sind, but before speaking to Sind:
"We've escaped!"
The reunion:
Sind: "Come here."
Tand: "Please, no lecture! This one is sorry."
Sind: "You deserve one. We were worried about you!"
Tand: "Tand knows."
Sind: "Life is a story, yes? We must live through it together. You cannot skip to the last page, win a life in a gambling den."
Tand: "Tand knows, he just ... wanted to make you and Muzag proud."
Sind: "We are proud of you! Your father, your sister, me. You do not need a lot of coin to make us proud."
Tand: "Tand knows!"
Sind: "We're here for you. You know that. We'll get through this. This is nothing like the time with those Colovians, yeah? The time you almost lost your eye?"
Tand: "Heh, that was a bad one. This one loves you, Sind."
Sind: "I love you too, Tand."
Speaking to him after the quest:
"Thank you so much for helping this one, stranger. Tand promises to be a better life mate to Sind."