Online:Suldrini Dothan
The UESPWiki – Your source for The Elder Scrolls since 1995
Suldrini Dothan
Home City
Mournhold
Race
Dunmer
Gender
Female
Health
39959
Reaction
Justice Neutral
Pickpocket
Hard
Profession
Outlaw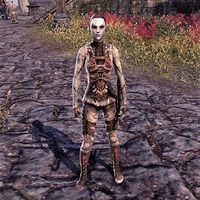 Suldrini Dothan is a Dunmer outlaw who can be found in Mournhold. She is northeast of the City Center, keeping company with Nivis Hlaalu. Before completing the Tribunal Temple objective, she is one of several NPCs in Mournhold that has unique ambient dialogue. You can interact with her to make her say something, but no dialogue window pops up and there are no subtitles for her dialogue. She will also occasionally say something on her own if you're close enough to her. These lines are unique to her character, and will stop occurring after she starts keeping Nivis company. When she is able to say these lines, she is wandering around the path near the Fighters Guild, and passes the stables often.
Dialogue
[
edit
]
"If Mother Almalexia is the Anticipation of Boethiah … where are the arenas? Where is the strife here? It's all so strange …"
"I've heard so much about this great city of Mournhold. Strange how legends and tales differ from the reality of things."
"This does not seem how Boethiah would wish us to live. This city is so … safe."
"So this is life in cities free of the ash … the air is so clean here."