Online:Sinud
The UESPWiki – Your source for The Elder Scrolls since 1995
Sinud is a Pahmar-raht soldier employed in Euraxia Tharn's army. He loves fighting, and preaches the might of Khajiiti martial arts.
Dialogue
[
edit
]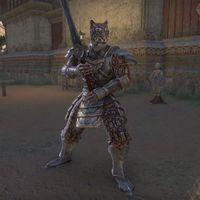 "There is nothing quite as satisfying as your paw connecting squarely with your enemy's jaw. And when you hear the bone crack? Ah, such a lovely sound."
"The other races call Khajiit cowards, call us weak. All nonsense, of course.
We are cunning. There is a time in battle to strike, to retreat, to strike once more. We do not allow foolish pride to get in the way of winning, that is all."
"Swords! Axes! Staves! Bah. Nothing compares to the power and cunning of claw-to-claw combat. This, every Khajiit knows.
Want to truly test your might? Throw down your weapons and put up your paws!"