Online:Shantin
The UESPWiki – Your source for The Elder Scrolls since 1995
Shantin
Home City
Anvil
Race
Khajiit
Gender
Male
Reaction
Friendly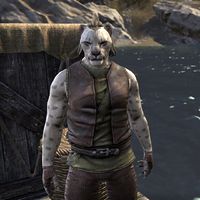 Shantin is a Khajiit who can be found on the docks in Anvil. He is located on the pier where The Egret is docked.
Related Quests
[
edit
]
Dialogue
[
edit
]
Before the related quest, he will lament,
"So many nets, so many fish, so little time. This one's life is a tale of excess and woe."
If you're on the task of finding the Vanos siblings work, he'll say:
"An entire day's catch, lost to the hungry sea. So many wasted fish!
Jode punishes me for expecting a spoiled Dark Elf to perform the work of an honest Khajiit."
Spoiled Dark Elf? Are you talking about Raynor Vanos?
"Oh, you know the big-brained Dark Elf with claws as dull as dirt? The one whose idea of mending a net is to tie a knot and hope for the best?
If you seek payment, you will find only disappointment. Raynor is no angler. He's a liar and a cheat!"
If I compensate you and throw in something extra, will you hire Raynor and pay him for his work?[Leveled Gold]

"Has this one misheard you? No, your gold does not lie. You want to pay me to pay Raynor to make my badly frayed nets even worse than they were before? You have been sniffing the mooncakes, yes?
Very well, it's your gold. We have a deal."
I'll send Raynor your way.
"This one has not forgotten his promise. Or your generous payment. Raynor may poke as many holes in the old nets as he wishes. This one will buy new nets in the very near future!"

Never mind. I'll inquire elsewhere.

<Ends conversation>