Online:Saveri Seloth
The UESPWiki – Your source for The Elder Scrolls since 1995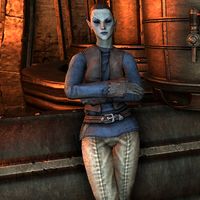 Saveri Seloth is a Dunmer brewer found plying her wares from the Brass Fortress's tavern, The Cloisters, despite her hangover.
When spoken to, she will say one of the following:
"What would you have? Quietly, please. I oiled my gears a little bit too much last night."
"I have several teas that are good for what ails you. My last cup should be kicking in any minute now. Any minute..."
"You may have to repeat your order. I'm having a hard time grasping words today."
"I have several fine vintages for you to try. Sampled them myself just recently. Perhaps too recently. Ugh, my head."