Online:Remy Bertault
The UESPWiki – Your source for The Elder Scrolls since 1995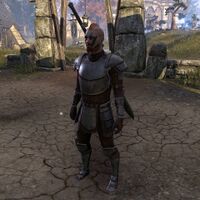 Remy Bertault is a Breton mercenary found at the Southern High Rock Gate. He used to work on farm in Rivenspire before he was recruited.
Dialogue
[
edit
]
He gives you some advice when you speak to him.
"When you're tired of being regular army, come join us. The food's good, the pay's good, and we take the jobs we want, not those some general forces on us. No suicide missions for us!"
You like being a mercenary?
"Of course. What's not to like? You get to travel Tamriel on someone else's coin. I might still be stuck in a little village in Rivenspire, grubbing in the dirt, if Odyle hadn't come to town recruiting. Best decision I ever made, leaving that dump."
Isn't it dangerous?
"You think farm work isn't dangerous? You ever been kicked in the head by a cow, or gored by a bull, or trampled by a horse? I bet you haven't, have you?"
Well, no.
"I thought not. Once, I was almost pecked to death by a flock of angry geese. I still have nightmares about that.
No, my friend, mercenary work is far less dangerous than toiling away on the farm. Much more profitable too."