Online:Olvyia Indaram
The UESPWiki – Your source for The Elder Scrolls since 1995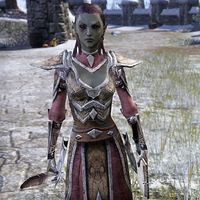 Olvyia Indaram is a Dunmer soldier of the Ebonheart Pact found at the Northern Morrowind Gate. When she is first met, Olyvia will insist you learn the basics of fighting in the war in Cyrodiil.
Related Quests
[
edit
]
Dialogue
[
edit
]
Welcome to Cyrodiil
[
edit
]
"Let me guess—another new recruit. And you're here to fight for the Pact?"
I'm ready.
"Not likely. You need training. Let's start with an easy task. Mirrored-Skin waits at the Southern Morrowind gate with munitions for the siege range. Use the Transitus Shrine to get there and back. Vother Herendas can tell you more about it."
What if I don't need training?
"It's your skin. If you think you're ready, speak with Grand Warlord Zimmeron. Only he can excuse you from training.
Go to Mirrored-Skin at the Southern Morrowind gate to start training, or see Zimmeron to skip training. Either way, move along."
I'll talk to one of them.
Afterwards
[
edit
]
Once you have completed your training she will be far more brusque with you, though she can be asked about the war.
"I'm busy here. Don't waste my time, soldier."
What's the war about?
"What kind of question is that? We have enemies. Their lands, riches, and strongholds must become ours. The Dominion and Covenant must be crushed and the Pact will rule Cyrodiil!"
Why fight over Cyrodiil?
"Cyrodiil is the heart of Tamriel. The alliance that controls Cyrodiil can strike in any direction, threatening the other heartlands. And that alliance will be the Ebonheart Pact!"