Online:Nadama
The UESPWiki – Your source for The Elder Scrolls since 1995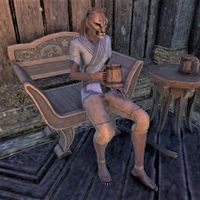 Nadama is a Khajiit scribe to General Renmus found in The Sweet Breezes Inn in Senchal. You'll find her in the lower floor kitchen sitting in the corner enjoying her drink. Sai Sahan sends you to bribe her in order to get an audience with General Renmus. According to Sai, she has been trying to leave the city and with some persuasion, or jewels to fund her trip, she might be appreciative and offer you a favor.
Related Quests
[
edit
]
Quest Related Events
[
edit
]
Speak to her for the first time and she'll admonish you for interrupting her:
"Can't you see that I'm trying to drink away my sorrows? It's an extremely delicate process, you know. Doesn't require company."
If you've started the quest, you can say:
I need to see General Renmus today.
"Today? Ha! Oh, you are very, very funny.
General Renmus's schedule is full today. If you want to see him, fill out your paperwork and submit it. Just like everyone else."
Could some jewels convince you to add me to the schedule?
"I didn't know you were feeling so generous, walker.
I suppose your name can be added to the general's schedule. But that is all, yes? You'll need to secure the proper documents and delay his previous appointment."
I understand. Here are your jewels.
"Thanks for the generous donation. Let's just make sure this little exchange stays between us, yes?"
What's your next step?
"I'm going to finish my drink and then find the next ship out of this Moons-forsaken city.
If Dragons weren't bad enough, all these refugees will eat Senchal out of house and home. I'm leaving before the riots start."