Online:Mingalion
The UESPWiki – Your source for The Elder Scrolls since 1995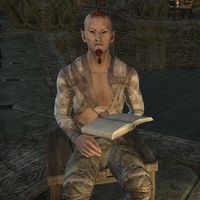 Mingalion is a Bosmer scholar who can be found in Rawl'kha Outlaws Refuge, reading. His choice of residency is explained by the desire to be closer to his research subjects.
When approached, he shares, "What fascinates me most is the criminal's way of justifying even the most heinous of actions". He can also say, "Oh me? I'm not a criminal. I am a student of the criminal mind, however!"
Mingalion is the author of the book entitled The Criminal Mind. A copy lies on a cushion beside his feet. According to his book, he once visited the Imperial City Prison to perform autopsies on dead criminals. He theorized that criminal behavior is largely due to brain deformities and that this skull structure may resemble earlier races who were prone to violence. As he considered certain races more likely to exhibit these characteristics than others, his theory was considered racist by publishers.